In many sectors, a company's legitimacy practically rests on having a mobile app, if only by name.  There were over 194 billion mobile app downloads in 2018, which is nothing short of ludicrous given that Apple opened its app store only 10 years ago, in July, 2008, with 500 apps.   Begs the question (as I swipe through the screens of un-used apps on my iPhone), what for? And, where is this going?
The device is the destination
Ironically, the vast majority of mobile apps have nothing to do with where you are.  They are designed to keep users connected to data and to each other, or to keep them entertained (bubbles 1 and 2 in chart below).  As long as your device is with you, it's as if you've never left.  Apps are considered mobile because they overcome remoteness – the anywhere you want to be promise of a common credit card.  In other words, with most mobile apps when or where (or if) you go is completely irrelevant to the mobile app experience.  The device has become the destination.  This piece is about world-changing apps, mobile mobile apps that by virtue of that fact that they "live" off of the device make life better.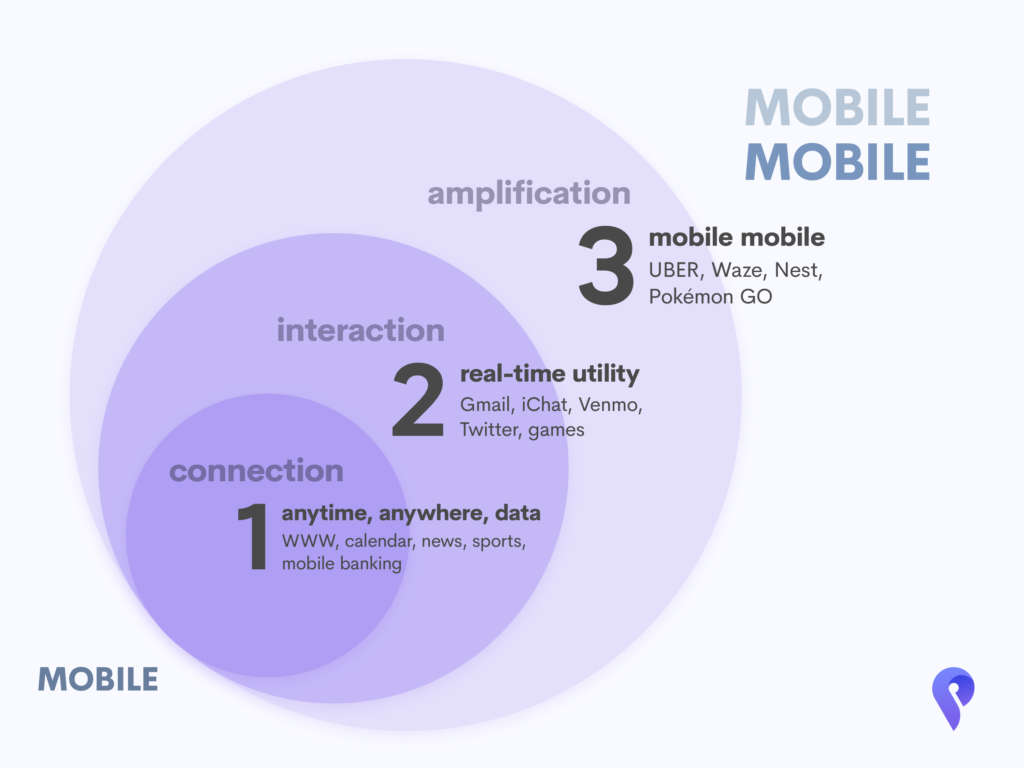 The app is the destination
If an app is truly mobile native, or mobile mobile, where you are is the focus of the app experience design and the salience of the technical innovation. The value proposition to the user is in the elevation the off-device experience.  A mobile mobile app bridges the device world to the real world in substantive, symbiotic ways.   Transport networking (Uber), community-based navigation (Waze), smart home (Echo, Nest), and mobile AR (Pokémon Go) show what's possible but are only the beginning.   
What if you are buying the destination?
What could a mobile mobile real estate app look like, one that made the online and off-device home-buying experiences one?  
Consider this scenario:  a young couple, Jordan and Jake, first-time buyers, searching for their perfect home …
They've created an online profile that captures their needs and desires. They explored homes online, tagging and uploading pictures, layouts, even furnishings that they like. They linked their account to boards curated on Pinterest and Houzz.  They have a highly personalized list of homes ranked by a match scores, based on all of these things.  Their interactions with this list (time spent, images saved and shared, homes wish-listed) and dialogue with an AI, is constantly refining their home search and match scores. All of this was done on one the many devices the couple owns.
It gets interesting when they venture into the world. One night, while driving through an unfamiliar but attractive neighborhood with the right vibe, Jordan asks the AI if there are any good matches nearby.  Instantly the AI scores nearby homes on the market, and finds 3 with a match scores above 80%.  It plots the most efficient route on the nav to see all three.   While en route the Jake takes photos and notes to capture the unique features and feel of the neighborhood.  These inputs become part of their profile and the search algorithms. 
As they explore one of the homes, the AI sends contextually relevant nudges about things that matter to them and that are unique to the property. On the door step it points out "this is one of only 3 examples of Modern Architecture in the neighborhood." It the kitchen, it tells them "this was remodeled 5 years ago." When they enter the living room, it points out "there is a nice sunset from this room and a view of a dog beach approximately 3/4 of a mile away." Jordan and Jake are amazed that many of the suggested were not in the listing's online description, but recognized by the AI in posted photos.  Their tour and their notes and photos are stored and metabolized by the matching algorithm.  
As they head to their car, the AI alerts them that nearby a listing just came onto the market that is a 93% match with their updated profile. It's 9% under their budget and pre-approved for a loan. It's available for showing now or two times next week that fit both Jordan and Jake's calendars. The AI asks them how to proceed.  There's no debate — the couple delays their dinner and immediately books a showing. They are the first to see the home, the one they wind up buying.  
The device is irrelevant
Some version of the above scenario is where we are headed. Hardware will continue to lead by going away, morphing into wearables and then implants.  When the convergence of mobile tech and real world experience is complete we might drop word app as well. The saying, "there's an app for that" will sound utterly ignorant.