Wise Agent and Purlin, leaders in real estate CRM and real estate AI, respectively, have found a way to change the lead generation conversation. From more leads, to better leads. From higher conversion, to easier conversion. From automation, to intelligent personalization. With the right combination CRM expertise and AI tools, agents can deepen their relationships with the clients from before they are leads to well after the transaction. All of this with a lot less work. The result is happier clients and better business.
Connect early & personally 
With Purlin's StyleExplorerTM agents can start creating a premium experience for potential clients even before they start comparing listings.  It also enables agents to connect, and self-promote, easily through Facebook and other social media platforms.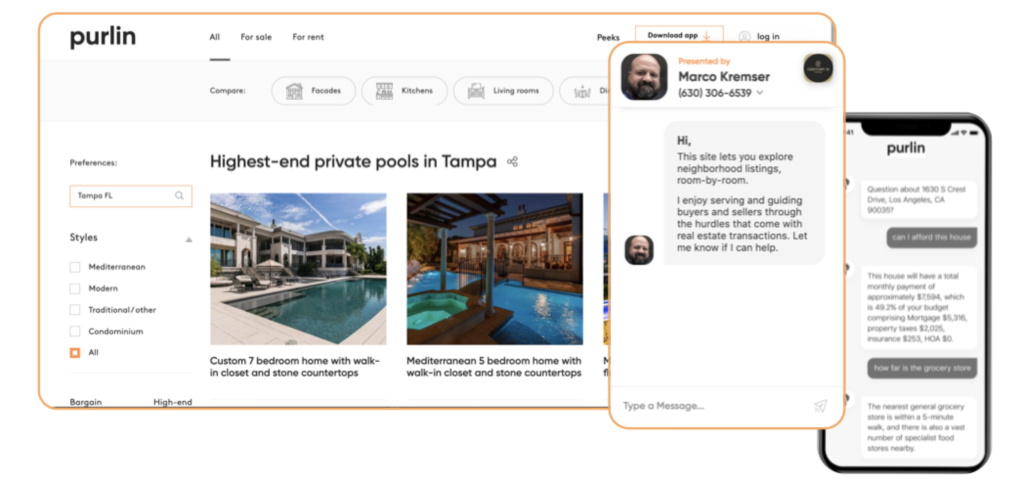 Through a co-branded digital experience from Purlin, agents can offer buyers and sellers an incomparable visual exploration of homes on the market by style, feature and room.  Their clients can "peek" into neighbors' homes and look inside the valuations of neighborhood comps, akin to doing their own virtual CMAs.  StyleExplorerTM learns as clients go, and uses intelligent personalization to continually make searches better based on search behaviors.  They feel empowered and looked after. The agent is the hero, and the whole experience is branded with the agent's mark and smile.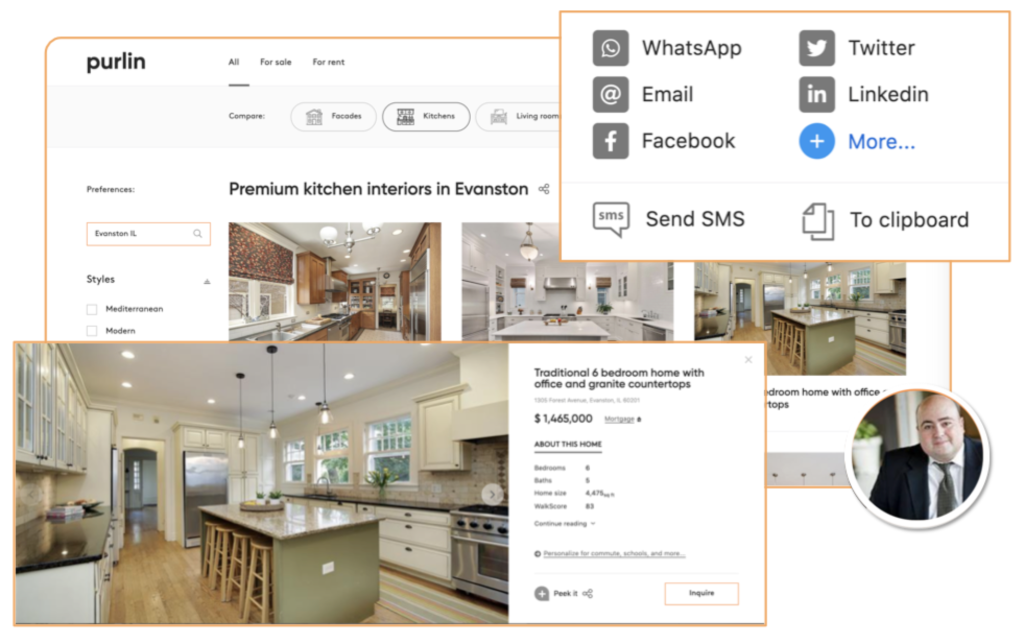 Engage socially
The intelligent personalization of StyleExplorerTM can be easily unleashed and amplified on social media.  Facebook and other social media sharing is embedded in the process, requiring no other applications or extra manual entry (see images below).  Agents can demonstrate their expertise and experience in a market by creating and posting boards based on styles, and even specific rooms, in specific neighborhoods.  Or they can post individual listings, beautifully packaged with complete details and links to take the transaction forward.  The new behavior and interest data collected through the experience improves the agent's ability to create and powerfully target audiences compliantly.  
Nurture precisely
Wise Agent and Purlin work in harmony to help agents build relationships with their leads and clients. With Wise Agent's management system, when a new potential client comes in from Purlin, agents can automatically add them to specific categories and drip campaigns based on their interactions within Purlin.
Ultimately all of the details from lead interactions on Purlin will be included in their contact profile in Wise Agent. That way, everything an agent needs to know will be accessible in one place. Centralization of client information allows agents to stay in touch with leads to build stronger relationships and convert them to paying customers.
Wise Agent combined with Purlin adds more value to CRM by delivering more insight into who leads are and what they want, so agents can begin building stronger relationships.